The fact that AI has exploded across the globe is almost an understatement – and now Google's latest addition is here (at least if you're in the US). The not-so-short name of the service is 'Search Generative Experience' (nicely abbreviated to SGE) and will enrich your search experience through AI.
Google gives a clear indication that AI is the way forward. Nothing new there really, but still a statement by the giant. The company has been working with AI for several years and back in 2017 they established an AI department as well as had a change of mindset to become an AI-first company. AI is the future!
The benefits of the new AI-loaded search engine will be that you can understand a topic faster, gain new perspectives and opinions as well as get more done – faster. Instead of having to split your searches into several different ones to get the answers you want, you can now ask several questions at the same time, and get answers to all of them – in a single search. For example, if you want to book a trip, you will receive suggestions for hotels, flights and activities – all at the same time. What's more, you get everything in a 'snapshot' where you can find links to dive deeper into the topics you would like to explore. Here you can also choose to build on your search in a more conversational manner, by, for example, asking follow-up questions.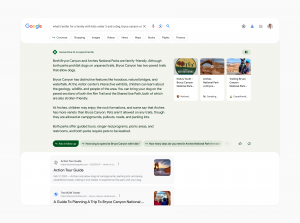 It is worth mentioning that this feature is still in the development phase and will get better with time, as the AI continuosly learns.
The shopping experience for the user is also enriched. You can gain insights so that you have a better chance of making informed decisions. Again, you get a snapshot of what Google's AI considers the most important factors and the most relevant products based on your search. You also receive product descriptions that include relevant reviews, ratings, prices and product images. This, in turn, places added pressure on companies selling online. These attributes need to be well thought out. It's important now, of course – but as you can see, competition is not going to decrease. Rather, the opposite.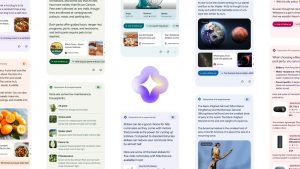 Google's "Shopping Graph" has an inventory of more than 35 billion products – making it the world's most comprehensive dataset of products, vendors, brands, reviews and product information in existence. Over 1.8 billion products are updated as often as every hour, allowing the AI to provide fresh, updated and reliable search results on a consistent basis.
Numerous studies show that customers want to make informed decisions – and that other people's opinions are incredibly important. Google has therefore designed its new search experience in such a way that it drives you to pages and content where you can get information to make an informed decision. Despite this, the sponsored ads will of course remain and have their dedicated places across the web. However, Google assures that they will maintain their promise of ad transparency and all paid ads will be easily distinguishable from the organic results.
If you're keen to test Google's Search Generative Experience, you can do so in the Labs HERE (Note: Currently only available in the US, Japan and India). When the service is launched in the UK, start your Search Generative Experience journey with us!